Thank you all for the kind thoughts about Shelby. They mean so much to us as we grieve.
We are both Christians and believe that God sets up Divine Appointments, and meeting Shelby was a Divine Appointment. How else can we explain how Shelby found us, half a world away? People say that when you rescue a dog you find the one you want but you take home the one you need.  Just over 10 years ago Shelby rescued us. She traveled a long way with a few scrapes and a partial leg to arrive in Elverta, Ca. We met her about three weeks after her amputation. She was smiling and having a great time with her Foster Mom Kathy, Foster Dad Jim and Foster God Mother Jana at Homeward Bound Golden Retriever Sanctuary. We had no idea our lives were going to be changed forever.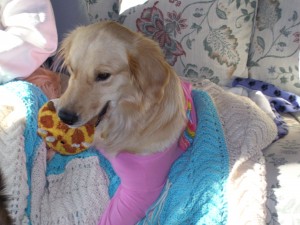 Shelby always had a smile and a wagging tail for everyone she met. Always in the present, kind, caring, giving, loving, seeking treats or a tennis ball.  A friend to everyone she met. A great ambassador for TRIPAWDS.
After attending classes for 6 months we passed them all. Nine months after she adopted us, we were certified as a Social Therapy team on November 1, 2009. We immediately started visiting Memorial Hospital and continued there until her retirement in March 2019. In addition to her regular gig at the hospital, she was a reading buddy, visited autistic kids, met seniors at an Assisted Living Group Home and hung out with high school students that were mourning the death of one of their teachers. She charmed college students with visits a short time after starting school and a couple of weeks before finals. In a local VA Hospital we met with young Heroes returning from the gulf War as well as Vietnam and Korean war vets, trying to help them forget the terrible things they saw and experienced. Shelby also trained as a Comfort Dog. The training included working with the Santa Rosa Police and Fire departments, and the Sonoma County Sheriff's helicopter crew.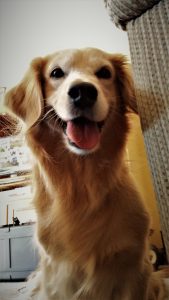 Elvis tried to hang out with her in Las Vegas as we took her picture in her wagon right up next to a NASCAR race car. We met and partied with Las Vegas TRIPAWDS and visited the Valley of Fire. Checked out a few new BMW and Harley Motorcycles. We always stopped at motorcycle shops, loading her in her wagon to look around. Some folks wanted a picture with her next to a new bike – she was always up to having her picture taken!
One time during a parade in Sacramento a TV crew wanted to interview us, so we were on a local morning news and event show. I'm thankful they showed more of her than me. We drove down to Orange County to see her special friends John, Diane, Bernie and Linda and party with some SoCal TRIPAWDS. We had a great day in the park and later as we were having dinner, Shelby snuck under the table and snatched a goody right out of John's hand. That made the evening!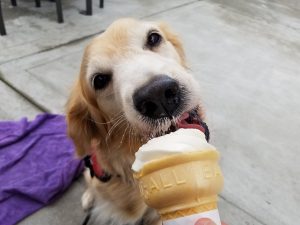 Starting in 2009 every few months we would have a NorCal TRIPAWD Party at Mill Valley Dog Park. And they were insane parties! We attended them for 10 years and only missed one. That was my fault, not hers. At the parties we met a ton of 3 and 4 legged dogs and their Peeps. WOW, what amazing memories…she met Maggi and Tani, Chemiel, Cara Sue, Max and Linda, Wyatt and Codie Ray, Lilie Girl and Happy, Bernie Bin Laden, Hannah and Jasper Lilly. So many more TRIPAWDS over time, plus a ton of 4 legged dogs. The Peeps were all so amazing. We always had snacks, tennis balls galore and tons of great conversation. Many of the TRIPAWD Peeps we met 10 years ago are still very close and special friends.
Sonoma County was ravaged by fires in 2017. Thousands of homes, businesses, shops and stores were leveled. We took Shelby to Memorial Hospital and met with some of the evacuees. Everyone was in a state of shock. We met some of the Doctors and Nurses in the Intensive and Critical Care areas. We found out many of them already had their own homes destroyed…yet they were at work helping others. Simply amazing people. Cal Fire set up a base for fighting the local fires at the Sonoma County Fairgrounds. An entire "city" was created as a base for fighting the fires. Machine shops, truck maintenance, sleeping, showers, breakfast and dinner and a warehouse full of people on phones and radios making sure the "city" and the first responders had everything they needed to get the job done. 6500 first responders were there.
Shelby, Cindi and I started visiting the first responders, and the appreciation they gave us was unbelievable. They thanked us for being there! For 2 weeks we were at the main gate from about 3:30 to 8 PM greeting and thanking the incoming day shift and the outgoing evening shifts. They were so respectful, gracious and caring towards Shelby, Cindi and me. Some folks saved part of their steak from dinner and gave it to Shelby. Toward our last days there, a Battalion Commander told us Shelby's visits came up in the morning planning meeting. They elected to give her a new name "Dogtor Shelby". We thought this was the pinnacle for Shelby's career.
In March 2018, two doctors and a pregnant social worker were shot and killed at the Veterans Home in Yountville, Ca. This horror occurred where these Vets live. We were one of the four original Comfort Teams there. They said we could visit in any of the buildings except where the murders occurred. So we started in a building that served the staff, recreation hall and their store. We walked in and just visited folks as we saw the need. The need was overwhelming. Their grief was evident, folks were confused and wanted to know how this could have happened in what should be a place of safety and peace. Later that day we went to the cafeteria and met some of the vets as they came and went. One Vet told me "we've already been to war, it shouldn't have come here." On another day we visited the arts and crafts building and met a ton of people, almost all still had the look of shock and disbelief. One gentleman asked if I seen the hearts? No, I hadn't seen them. He told me to look at the garden right outside their craft building. There were three large handmade hearts that were painted pink. On the inside of one of the hearts was a small heart…for the unborn baby.
The time we spent with Shelby was way, way too short. We packed a lot of life into those 10 years. People have told us she's an angel. We are so fortunate she came home with us and enriched our and countless others' lives. I was able to spend more time with her than Cindi was. We miss her from the bottom of our hearts. All of our kids that have passed hangout at the Big Dipper so we can look up and find them. She's there now, healing, working through her illness and building up her stamina. And playing with all the other wonderful spirits over the Rainbow Bridge.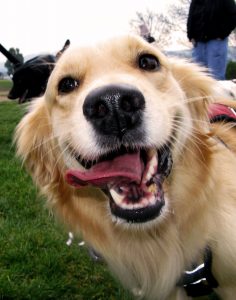 We couldn't be happier that God brought Shelby to us. She was an incredible and social dog, making me go out of my comfort zone and learn how to chit-chat with folks as they enjoyed their time with her. The Bible says in Ecclesiastes, "To everything there is a season, a time to be born and a time to die." God opened so many opportunities for Shelby to help people. He made the training classes available, and the certification process couldn't have gone smoother if we had planned it. She visited thousands of people and simply was herself. Accepting, empathetic, sharing love and compassion, smiling and wagging her tail.  She was a sure cure for so many people.
We received a beautiful tribute to Shelby that states, "Listen to the wind and know I am there."
One of Shelby's admirers said it well, "Run free and whole Miss Shelby, you will always be in our hearts."