Mom and Dad took Penny, the worlds most beautiful Border Collie, and my favorite big sister, out to lunch for her eleventh birthday! The sun was shining and it was so nice outside.
Penny says they went to Sebastopol, that's a funky, but a very cool town, not to far from here and had a Foster Freeze hamburger and some french fries. I know that's true cause when she got home she had berger and fry breath.
Penny has really helped me to become a better dog and I make sure I do everything exactly as my big sister does! Although I can't and not quite sure I want to piddle the same way she does… That might be more information than you need…
I wish my big sister many more birthdays for a long, long time!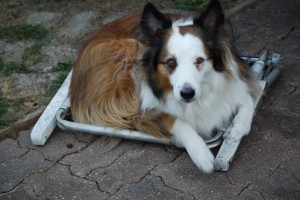 P.S. She's laying on her favorite chair, she is sooo coool!