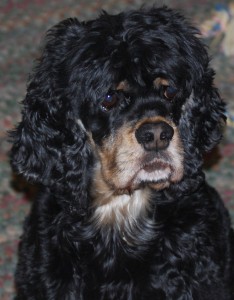 Today was Charlie and dads first day at the Reading Dog Program!
He and dad have been gettting ready for this day for quite a while. I had to laugh, they took Chuckie, that's Charlies nick name, to the doggie laundry last night for a rinse and fluff. Charlie can get a little, Odiferous, as they say. When he came home from the rinse and fluff, he looked like a little bear, hair all poofed out and and smelled really good. Let me tell you, that was really nice for a change!
OK, here's what Charlie told me they did. They went to library in the middle of downtown Santa Rosa and parked across the street from the library. Dad said the walk would do them both good, heck, it was only 1 block, give me a break! So they walk down the alley to get to the back door, me, the Petite Princess would never enter through a back door, but Charlie could have cared less! They meet the security guard and as he and dad are shaking hands, Charlie does a #2, right there in front of librarian and the security guy, he has no manners, but Charlie could have cared less! So dad cleans it up and the the security guy says. you can throw that away in my office. I know my dad and he was probably laughing inside and saying, you'll be sorry if I do that! So, he throws the bag in the trash, across the parking lot and heads for the back door.
Wednesday evening mom and dad went to Costco and picked up a big ol picture of Charlie just like the one above, it was bigger than the 11 x 14 photo that Maximutt's dad sent me of me.  So mom goes to Kinko's and get's this "billboard" size picture laminated so no one messes up Charlies picture. Mom takes the picture to the library on Friday and they put a sign on it, "Come and read to Charlie this Saturday morning from 11 to 12."
So they enter the library through the BACK DOOR and make their way to the children's part of the library, and there are people waiting for them, there was a waiting list of kids that came to read to 'ol whats his name! So dad puts Charlies official "Humane Society of Sonoma County" neckerchief on him and they go to work.
The first little girl was 5 years old, she couldn't read, but she wanted to tell Charlie about all the different animals that was in her book. She was a bit timid at first and Dad told her Charlie is her new friend and not to worry. She told them a dog bit her about 2 months ago on her head pretty close to her ear. Dad said we were very sorry to hear that but it's really important to remember not all dogs are like that. Dad told her to always ask before petting a dog she didn't know and she said she would from now on. As they finished their time with her, dad gives her an autographed picture of Charlie and a very special book marker from the library.
Dad said they got to work with 8 different kids this morning, one little boy was 7 and he was a lot smarter than dad or Charlie, than a boy about 12 came over and he was having a hard time with some of the words, so Charlie helped him out a little bit. A mom with 2 little girls came over and the older daughter, 6, read 2 books to Charlie and the younger girl read a little of 1 book to him.
Charlie loves to watch what's going on in the world, he sits at our front door for hours and watches stuff. When they first came into the small area in the childrens library dad figured if he placed the kids between Charlie and the big window to the street, they would think that he was looking and listening to them read,  IT WORKED!!!  The 6 year old told the librarian that Charlie sat and listened to everything they read to him!!!
Dad said their hour went really quickly and as they were leaving, the librarian just gooshed over Charlie, Charlie did this and Charlie did that and how they can't wait for Charlie to come back! Then another library lady came over and did the same thing! She actually sat down and KISSED HIM, right on the head!!!! 
Well,  dad is very proud of Charlie, he told mom that this is something that Charlie can do and he does it very well. Dad said he didn't know exactly what to expect, but it was really very cool and he can't wait to go again. 
I can't believe that lady really kissed Charlie on the head…I'm pretty proud of my big brother, he really is a good guy, but I still can't believe that lady kissed him on the head…