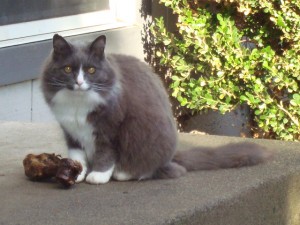 Hi, it's Gracee, the inside the house alpha feline female and today it's all about me!!!! Since I was adopted on Halloween, they gave me the middle  name of  "Boo," pawents can be soooooo weird sometimes!
Today is my adoptaversary, dad thinks it's 13 years, mom says it seems longer??? I don't know whether that last crack is a good thing or not! Anyway, back to me…today I'll enjoy a breakfast of Iam's Senior Kibbles and some fish flakes. Then I'll make sure I antagonize Shelby as much as I can and take a few swipes at Charlie when he waddles by. Then it's nap time in the middle of the bed as mom tries to change the sheets. She'll wait till I wake up. Then I think I'll wander outside and take another nap on the wall in the back yard. Sunshine feels good. You know, the sun came out today because it's my adoptaversary.
Dad grilled a couple of steaks this afternoon and I perched myself next to mom as she ate hers. She's an easy hit, I got 2 pieces! It's getting dark and dad usually builds a fire. I had them move my sheepskin lined bed in front of the fire place, no fire tonight? We'll see about that!
Shelby and her chauffeur were at the VA Hospital this morning so mom slipped Penny and new smoked beef bone. Please see the attached photo, I took over possession of that thing in no time flat!
We'll, no fire tonight, so I'll head to the master bedroom and call it a day. As Winnie the Pooh says, T.T.F.N.