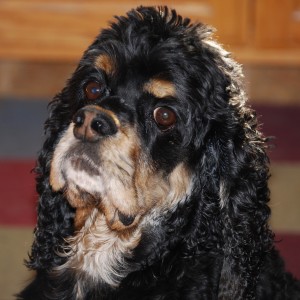 Charlie, the worlds most handsome Cocker Spaniel, and I were at his twice monthly gig at the Healdsburg Library yesterday morning chatting with the mother of one of Charlies regular readers. She thanked us for "giving up" our Saturday morning and I told her thank you for supporting the public library and for letting Charlie hang out with her son for a little while. She looked on while Charlie, her son and I went over to couch and read "The Cat in the Hat knows a lot about that." 
We carry 4 X 6 "autographed" pictures of Charlie with us and when the children finish reading to him, if they are a new reader, we always ask if they would like one of Charlie's autographed pictures to use as bookmark, or if they are a returning reader, we have Skoo Be Doo, Thomas the Train or Barbie stickers? 
When he finished reading to Charlie, I asked which sticker he wanted? He kinda hemmed and hawed and asked for a Thomas the Train sticker and as he walked over to meet his mom, I could see that he wasn't very happy. His mom came over and asked if they could have another picture of Charlie? She said he had taken Charlies picture to school for a show and tell type thing and when the teacher heard the story of how he came in 2 Saturdays a month just to practice his reading, she asked if she could post Charlie's picture on a bulletin board at the front of the classroom?  He was so happy and a bit embarrassed, but he told the teacher, sure. 
The teacher used that 4 x 6 picture to reward a young man's efforts to better himself and to let the other students know the program was available every Saturday of the month for no charge at a public library, but, Charlie was only there the first and third Saturday!
We are so happy we found the right job for Charlie, and it's good to be reminded that sometimes it's the small things you share that can create a "moment" for someone.. We thought having the 4 X 6 pictures was kinda cool and a novel way for the kids to remember Charlie. We had no idea what it would do for this one young man and hopefully his classmates.