We haven't blogged lately 'cause we've been really busy!
Shelby has been awarded her Therapy Dog title by the AKC. In order to qualify, she needed to visit Memorial Hospital 50 times on behalf of Paws for Healing in Napa. It took us a bit over 2 years but we completed the 50 visits in August.
In honor of a very special gift from Diane and John, parents of Bernard Bin Laden and Linda, and, the completion of her AKC Therapy Dog title, Shelby has new ride! After an exhaustive search, we found a pink wagon and added a few custom accessories.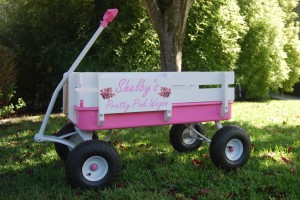 First, her front vanity plate is the gift from Diane and John, it's from a photo that John took and it's our favorite Shelby photo!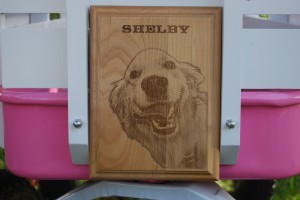 Next, the placards on the side are keeping with the pink and white colors and accessories with some pink roses.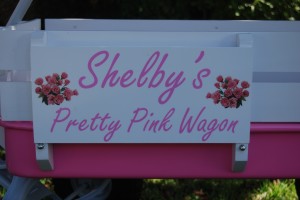 The rear license plate is the much desired California "Black Tag" plate.  You can see the "AKC" in the upper left hand corner, "Therapy Dog" above her name. And, "CGC" in the upper right hand corner for her "Canine Good Citizen" title.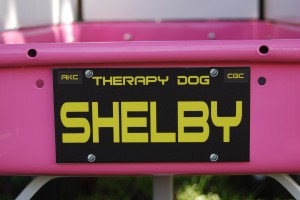 Shelby is also styling with her new harness and accessorized with a lovely green and pink flower with matching leash.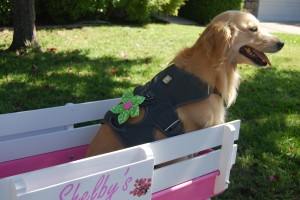 More good news, Shelby, Cindi and I were asked to be the liaison for Paws for Healing, PFH, to Memorial Hospital. Besides being the contact between PFH and Memorial, we will also be the trainers for future therapy teams for Memorial. When a prospective PFH team wants to see what we do during a visit, the human part of the team will accompany us on one of our visits. They will be able to see what we believe Shelby was put here to do, to bring joy and comfort to those she visits.
After their visit, if they decide they want to pursue the training, Cindi and I will accompany them and their dog partner on the next visit. We are excited about this new opportunity to help others share in the amazing "power of dog"… And it's her 6TH birthday on October 15!
We are so blessed that Shelby chose us to share in her life, we're having a ball!
 The maid and chauffeur