Well, well, well, I just celebrated my 8 year adoptaversary!!!
On April 4th, 2009, I rescued a family from Santa Rosa. They came looking for a dog and left with me, The Petite Princess. They had no idea how much their life was about to change. At first they were like deer in the headlights, didn't have a clue what to do with me, only having 3 legs and cute as a button.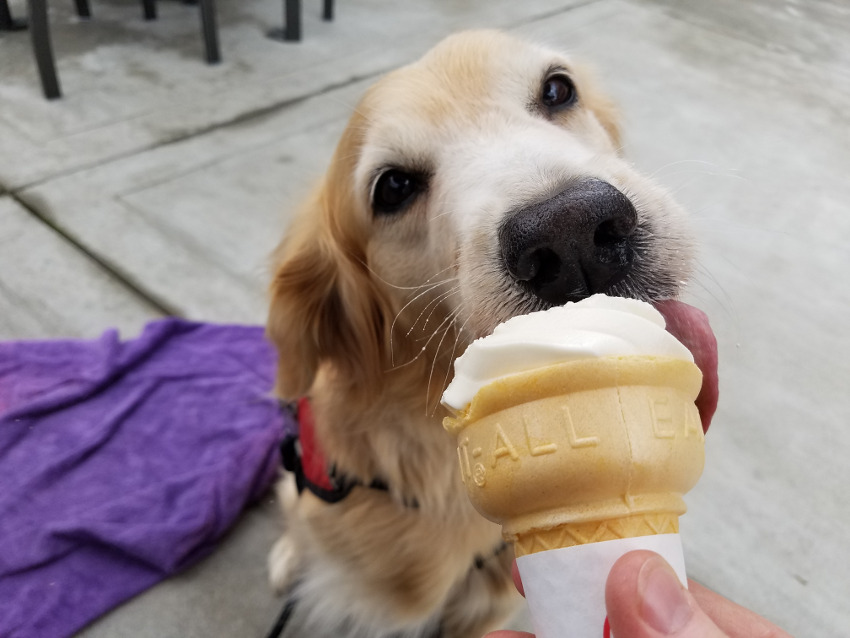 A few months later after all the training and learning stuff, they turned me loose on Memorial Hospital in Santa Rosa. I remember that day like it was yesterday, November 1st, 2009. That hospital had never seen the likes of me, my red wagon, autographed 4 by 6 closeup photo's of you know who, and, the maid and chauffeur there to help me start my rounds. Nope they had never seen a Princess cruising the hallways with my Farah Fawcett tail blowing in the breeze. People stopped, pointed, oohed and ahhed and we'd invite them over so they could meet me. A few told me how beautiful I am.
We've made a lot of friends at the hospital, we make friends everywhere we go. We've traveled many miles, me in my wagon, tail in the breeze. Hanging with Mom and Dad …from Doggy Days at Sonoma State, to a So Cal TRIPAWD PAWTY , a Las Vegas TRIPAWD PAWTY, to the Strip in Las Vegas, yeah, Elvis wanted his picture taken with ME! To retirement homes, helping kids learn to read, selling raffle tickets for the local Harley Owners Group fundraiser, working with autistic young people and sometimes folks who just need a Princess to hug.
I couldn't have done any of this without gobs of help. The students that rescued me in Taiwan and the volunteers at Homeward Bound Golden Retriever Rescue. The Doctor that took my bad leg off and threw it away. Jim and Kathy, the best foster parents this lucky Princess could have. My Foster God Mother Jana, who gave my dad the what for, and told him what he could and couldn't expect from me. Margie the trainer that helped dad and me learn to work together. Nancy taught us how to be a social/therapy team. She believed in me, as little as I am, she believed in me. Early in the training Mom and Dad weren't sure, but Nancy was. And Penny, my Border Collie big sister, taught me how be an alpha female before she left us…she was a much better Alpha Female then I'll ever be. She was so cool.
OK, let's not get all mushy here. 8 years, I can't believe it…
So, Mom and Dad, A.K.A, the maid and chauffeur, took me out for my 8th Adoptaversary Celebration lunch / dinner. I sat in the front seat of the pickup with my Dad and Mom sat in the back. I had a chickin sammich, fries and ice cream! Dad said as far as he knows, thats the 3 main food groups people talk about, I think he's right! Tons of chickin crumbs and ice cream all over my face and I was workin it! I usually don't like my picture taken with chicken sammich crumbs and ice cream on my face, but this time, I did! Ah, heck, we all know I love my picture taken anytime!!
Thinking back over the last 8 years, we rescued each other, that's the way things should be.