The recent wild fires in Northern California have burned thousands of acres, homes and businesses in the city of Santa Rosa and Sonoma, Lake and Napa counties. The Sonoma County Fairgrounds have been converted to a self contained community of 3500 first responders from CA., NV., OR., WA., SD., CO., MT., FL., NV., AZ. and Australia. The compound includes chiropractors, message folks, a small engine repair tent, communications trailers for AT&T, electrical generators to power everything, an eating area, kitchen, showers, laundry and enough tents for all the 3500 first responders as well as Santa Rosa Police, Sheriffs Department, CA. State Parks Department, U.S. Army and the Reserves for security and contractors for the bulldozer work. And, parking for dozens of fire trucks in all sizes, mostly red but some hi-viz yellow as well as an area to maintain all the equipment.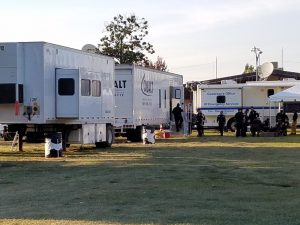 When we learned the organization that Shelby, Cindi and I volunteer for, P.A.L.S., or Paws as Loving Support, had permission for our dogs to visit the first responders, we headed down there.
I remember in Shelby's Comfort Dog training, she found a firefighter she was very fond of…so I knew she would love being at the Fairgrounds.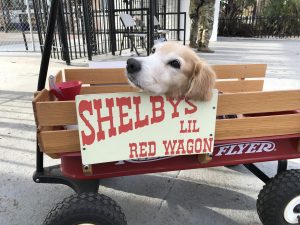 Getting into the Fairgrounds means getting through security, first letting the Santa Rosa PD know that Shelby is a comfort dog by showing them our photo name tags and that she was requested by the first responders. Then as you enter the compound you need to check in with Cal Fire. Fortunately most security folks have remembered Shelby so our access has been a bit easier. For the last week Shelby has posted herself near the main gate so she could greet the first responders as they headed into their compound after working all day or heading out for the night shift. We knew she would use her red wagon, because most fire trucks are red, and she really wanted to "blend in". On October 15th we tied a "Happy Birthday" balloon to her wagon and celebrated her 10th birthday by hanging out with the first responders. The next day I was told that Shelby was brought up in the fire fighters morning meeting and they gave her a new nickname, DOGTOR SHELBY.
We usually spend 3 to 4 hours by the gate where Shelby has greeted hundreds of first responders and without fail brought a smile to their faces. Some will tell us about their dogs at home and show us pictures. Some will ask to take her picture, some will ask to have their picture with her, some will smile, pet her and go about their business. Some will bring her a piece of steak from their dinner or a piece of jerky for her to munch on. We make sure we tell everyone we meet, "thank you for being here" and "thank you for helping us". We are humbled that many have told us, "thanks for being here, we appreciate it". I mentioned to one of the fire captains that we haven't heard any swearing or negative comments, his reply was "there's no room for that".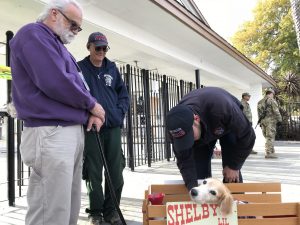 Yesterday was the first day in 2 weeks where we have no visible smoke from the fires. People are being let back into the evacuation zones to see what they have left. The long, difficult period of rebuilding has begun, it will take years. Cindi and I are very blessed, our house was never in danger.
The first responders came from all over to help us. I don't know how to say thank you enough for what they have done. Hopefully we've helped in some way.