Hi, it was a nice, cool afternoon, so us TRIPAWDS hung out in the front yard with the Pawrents and Emmy Lou, a quad paw, who as a rule doesn't hang out on the front lawn, was inside. She usually hangs out inside by the front door.
!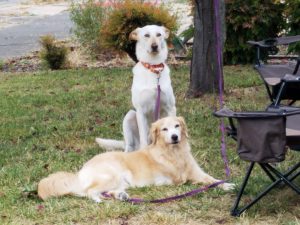 We didn't see Emmy so mom walked into the house and BUSTED Sweet, Sweet Emmy Lou finishing the last of the ice cream!
But this wasn't just any ice cream she was finishing, it was best Mint Chip Ice Cream in the ENTIRE WORLD! Thrifty Mint Chip Ice Cream!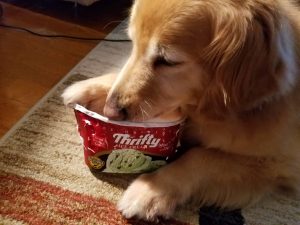 Good thing we live less than a mile from The Thrifty Mint Ice Cream Store, so, we knew a replacement was quickly available.
The rest of the evening Emmy Lou strolled around the house with Mint Chip breath. I'm not sure but later that evening I swear I saw Dusty giving her a big 'ol sloppy kiss on the face.
Emmy Lou got kisses, Dusty got some left over dried ice cream and I didn't git NOTHIN!
Shelby, the Petite Princess