Shelby left us a little over a year ago. It's been a long 12 months. We miss her more than we thought we would. We were so busy going places and meeting people, sharing Shelby with folks and suddenly it's gone. The last personal visit she made was going to work with Cindi, it was Cindi's retirement day. She did the best she could, smiles all around, everybody was so happy to see her. She rode home with me, and Cindi followed us home in her car. Shelby always rode shotgun in the front seat. A Princess don't ride in the back seat, 'nuff said.
She was tired when we got home, she put in a 6 hour day at Cindi's work. I swooped her out of her seat and put her on the ground. She was slow going in the house so I swooped her up again and put her on her couch. When she tried to walk, her rear legs didn't work. We made an appointment the next day to see the vet. She gave her a shot and said she should be OK, but she might throw up on the way home. She did. I called and left messages for the vet, she never called back.
The next morning Shelby couldn't stand on her rear leg's at all. It was Saturday morning, we called the vet and told them we were bringing her in. It was time for her to move on from her tired and broken body. They had a gazebo out front with chairs, cushions and boxes of Kleenex. Very peaceful.
We spent about 45 minutes waiting for the vet to come out. Shelby looked so, so tired. No smiles on her face, no Tripawd Twirls were done, no Farrah Fawcett tail in the wind. She was worn out and done with her broken down body, she was ready to go. She left so quietly, so peaceful laying on her purple towels. After all, purple is the color of royalty.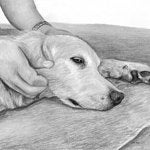 We spent half hour with her, then we walked to the truck. One of Shelby's friends from the vet, Ann, came out and cried with us, hugged us and said she would take good care of her. She visits Shelby's Blog and asked us, "Do you know how many people loved that little dog?" We said yes, we had a pretty good idea.
This year on the 3rd of July we went back to that gazebo. We sat quietly, tears streaming down our faces. We remembered the good times, man there was a ton of those! The sense of hollowness and loss was still was with us. The feeling of, "man, how do we get along without Shelby?" came up again. We went to Sequoia Burger, one her favorites, and had cheeseburgers and fries in her honor.
While we were visiting the gazebo last week, Cindi said, "You know Shelby held on until she knew I was retired, so she wouldn't leave you without someone to take care of you." Shelby was Heaven sent, an Angel among us.